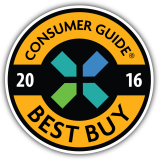 Hyundai is racking up the awards and recognition with its 2016 fleet of cars. The latest industry winning news is that Consumer Guide® Automotive presented the 2016 Hyundai Genesis and the Santa Fe/Santa Fe Sport with the "Best Buy" awards in their respective categories. The Genesis represented the large car segment while the Santa Fe/Santa Fe Sport won the midsize crossover/SUV category.
The "Best Buy" Awards were presented at the Chicago Auto Show this year where Consumer Guide assessed all of the vehicles based on key features that are important to a consumer such as price, features, fuel economy, reliability and more. The cars were also tested on the road through different driving conditions and then only 39 were awarded "Best Buy" over 20 different classes and segments.
It's no surprise that the 2016 Genesis was on the list of winners. With its advanced safety features technology such as Lane Departure Warning, Brake Assist and Sensory Surround Safety that helps driver alertness, it's clear why this vehicle was awarded "Best Buy."
In addition, the 2016 Santa Fe and Santa Fe Sport boast elements such as LED headlight accents, a Bluetooth phone system and even electric power steering and suspensions, which make the drive and the ride even more enjoyable.
If you're ready to make the best buy on a new vehicle, come to Jim Ellis Hyundai and get into one of these cars today!