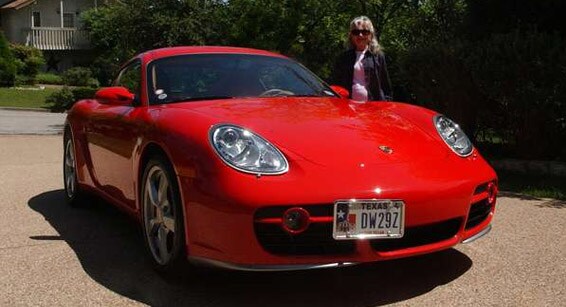 The world is full of car enthusiasts of all makes and models, but it's not everyday that you come across an 86-year-old woman who can't wait to rev up the engine of her 2006 Porsche Cayman which is parked next to her Porsche Cayenne. Her name is Edie Musgrove from Westlake, Texas and she's part of the Porsche Club (literally).
Her husband John, an Army officer, started her love for fast cars at an early age – 18 to be exact – when they were just recently married. Four children later and living in Germany, she laid her eyes on a Porsche, a 356, and knew she had to have one. A few years later, the couple bought their first Porsche, a used 1980 911 Targa. From then on, Porsche was the automobile of choice for the Musgrove family. They joined the Porsche Enthusiasts Club and their story took off from there.
The Musgroves never had problems with their Porsche vehicles and entered them in car contests twice a year. They headed up social gatherings for the local Porsche club and in 2008, Edie and John were awarded Porsche Family of the Year and shook the hand of Peter Porsche!
John passed away in 2011, but Edie keeps her passion for Porsche going strong by being an active member of the Hill Country Region Porsche Club of America…and joy riding in her Porsche!