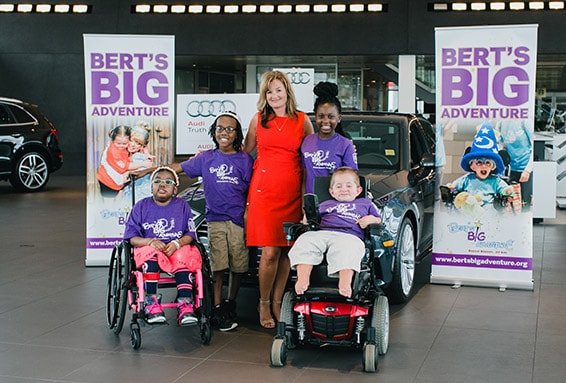 After a successful $120,000 fundraiser last year for Bert's Big Adventure, Audi Atlanta is at it again. This year we are going for another $120,000 in funds raised, all for Bert's Big Adventure.
Audi Atlanta has donated a 2017 Audi 2.0T FWD S tronic to Bert's Big Adventure to raffle off and keep 100 percent of funds raised. This 2017 Audi A4 has a retail value of $40,800 and one lucky winner will land this car from the purchase of a $100 raffle ticket. What a deal!
New this year, there are nine additional chances to win cash prizes of $250 each. A total of 10 tickets will be selected as winners: one main winner for the 2017 Audi A4 and nine others for $250 in cash for each.
The raffle is limited to 1,200 chances sold, with almost half of those already sold! How often do you get a 1 to 1,200 chance of winning a sleek new Audi A4 or $250 cash? Your raffle chance purchase also qualifies as a tax deductible donation.
The raffle ends October 26 at 5 p.m., or when all 1,200 chances are sold; whichever comes first. All chance donations are priced at $100 each and will be limited to 1,200 raffles sold. The official drawing will be held October 28 and the grand prize winner will be announced live on The Bert Show on Q100 between 7 and 9 a.m.
Bert's Big Adventure is a non-profit organization that offers children with chronic illnesses, who otherwise would not be financially able to visit Walt Disney World, the chance to experience "the happiest place on earth" and enjoy the occasion with their families. Bert's Big Adventure was started by Bert and Stacey Weiss in 2002 and the noteworthy cause has continued to raise support over the last decade.
Join us in supporting Bert's Big Adventure and raise awareness about this extraordinary cause. You don't want to miss out on this magical opportunity. To see full contest rules and buy a raffle ticket to support this great cause, visit bertsbigadventure.org.