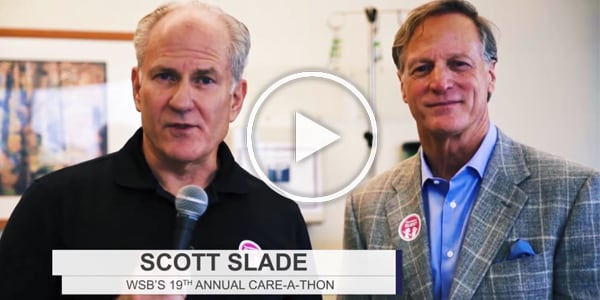 In its 19th year now, the WSB Care-a-Thon will begin at 5 a.m. on Thursday, July 25. This annual event airs live on News 95.5 & AM750, featuring stories from the Aflac Cancer and Blood Disorders Center of Children's Healthcare of Atlanta patients, families and staff. The event will end on Friday, July 26 at 6 p.m.

Money raised during the live event will go towards the funding of family support services, research and the Fellowship Program of the Aflac Cancer and Blood Disorders Center. Over the years, the annual Care-a-Thon has raised more than $22 million.

Each year during the event, Jim Ellis Automotive Group President Jimmy Ellis takes the opportunity to call in and offer the financial support of the automotive group.

"As a family and business we care deeply about supporting families and children," said Jim Ellis Automotive Group President Jimmy Ellis. "Each year we see the great work that WSB does through the WSB Care-a-Thon and we are honored to be part of such a worthwhile event. Family is very important to us, so naturally we want to do what we can to be financial supporters and cheerleaders for those families in our community that find themselves in need of services from the Aflac Cancer and Blood Disorders Center of CHOA. We see the great efforts made by the CHOA staff to be a support for the families that come through their doors. While we may not be able to physically be there with those families each day, donating to the WSB Care-a-Thon allows us to be part of the resources available to those that are there daily supporting those families."

The Aflac Cancer and Blood Disorders Center is ranked as one of the top pediatric cancer programs in the nation by U.S. News and World Report and is recognized as a leader among cancer, hematology, and blood and marrow transplant programs. The Aflac Cancer Center cares for more than 480 newly diagnosed cancer patients each year and nearly 5,000 patients with sickle cell disease, hemophilia and other blood disorders. For more information on the Aflac Cancer Center, visit
aflaccancercenter.org
.
For those interested in getting involved with this event, there are a number of opportunities to do so. The WSB Care-a-Thon call center requires the support of volunteers answering phone calls, meal donations and more. In addition, financial support can be offered through calling in or going online to make a donation or signing up for matching hour For more information on getting involved, visit
CHOA.org/careathon
.
Watch this message
from Jimmy Ellis about why he chooses to support this fundraising event.